New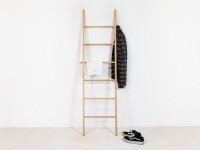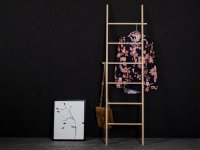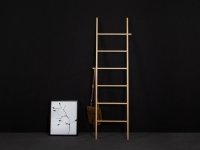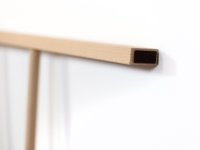 MARTA clothing ladder
made of Beech
The clothes ladder MARTA in steamed beech or oak impresses with its cosy and natural appearance. The solid wood comes from Germany and is processed into a real design ladder in workshops for disabled people. As a mute servant, the clothes ladder can stand in the bathroom, dressing room, hallway or bedroom and be leaned against the wall.
The coat stand is very easy to use: Unpack it, mount it briefly, lean on it and use it - without any holes in the wall. With five cross rungs, two of which are extended on one side to form hooks, the design ladder offers sufficient hanging and throw-over possibilities.
The ladder is simply leaned against the wall without assembly. Non-slip felt stoppers are attached to the feet of the clothes ladder, so that the ladder is stable on any surface. The wall is protected by small felt sliders.
high quality
produced sustainably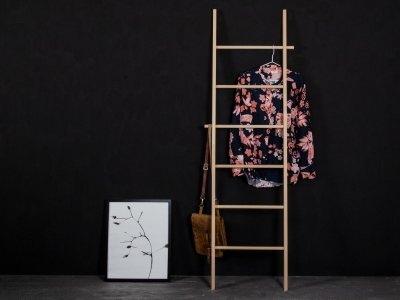 manufacturing
We design, develop and manufacture in Southern Germany in the depths of the Bavarian Forest.
Regional raw materials, local businesses and knowledge are the basis for a natural source chain and correspond to our understanding of contemporary products.
Sustainability is self-evident for us!
Dimensions & Information
Dimensions
height: 177 cm | width: 57 cm | depth: 4 cm
rung width: 43 cm
distance between rungs: 24 cm
distance to the wall: approx. 24 cm
Scope of delivery
MARTA clothing ladder and product information
Documents
Assembly instructions and product information can be downloaded here
Shipping Carrier
Reviews
So far 9 customers have rated MARTA.
By: BF via Trustpilot
On: 04.06.2020 | Verified purchase
Sind zufrieden mit der Kleiderleiter, schneller aufbau, gute Verarbeitung, alles super.
By: Brigitte D. via Trustpilot
On: 23.05.2020 | Verified purchase
Tolles Produkt. Schnelle Lieferung und gut verarbeitet.
By: Leo V. via Trustpilot
On: 22.05.2020 | Verified purchase
Sehr schön und gut gemacht, eine Zierde für meinen Raum. Bestellung unkompliziert und Lieferung ins Ausland zeitgerecht. Ich empfehle sie weiter!
By: Katrin B. via Trustpilot
On: 22.05.2020 | Verified purchase
Durchdacht, sorgfältige Ausführung, sehr gute Qualität, nachhaltig.
By: Christina H. via Trustpilot
On: 19.05.2020 | Verified purchase
Wir sind sehr zufrieden, die Kleiderleiter ist gut verarbeitet und formschön.
By: Jasmin V. via Trustpilot
On: 18.05.2020 | Verified purchase
Tolle Leiter Sie ist schnell aufgebaut
By: frauke t. via Trustpilot
On: 31.03.2020 | Verified purchase
Top Qualität, super verarbeitet! Passt perfekt! 👌🏻
By: Svitlana S. via Trustpilot
On: 12.08.2019 | Verified purchase
Alles bestens
By: Anonymous via Google Customer Reviews
On: 29.07.2019
Gut verpackt angekommen. Tolle Verarbeitung.