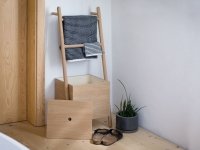 LOKKS ladder-shelf
made of Oak
LOKKS is a new unconventional storage furniture, which allows hanging and discret packing in a single product. It is meant to be a ladder-shelf, wardrobe or a low lean-to cloakroom. Due to its leon-on principle, the furniture is made for design-lovers as well as not-so-gifted craftsmen. The product offers the benefits of a ladder, as well as boxing opportunities of a storage furniture in a traditional way. Using LOKKS is very easy: Unpack and lean the furniture to the wall, wherever it fits you best. In addition, there´s no need for tools such as dowelling plugs or screws.
As LOKKS can be quickly and easily removed, it is able to adapt to the increased levels of mobility in our lives. The ladder-shelf is available in oak. The warm tones of the wood lend this piece of furniture its appeal. Thanks to it´s simple fixation und flexibility, LOKKS can be placed in the dressing room, the bathroom, the bedroom, the hallway, under the window or in the pitch of the roof – for sure you will also find many other places for this flexible piece of furniture.
high quality
produced sustainably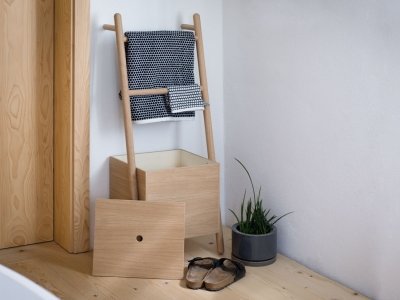 manufacturing
We design, develop and manufacture in Southern Germany in the depths of the Bavarian Forest.
Regional raw materials, local businesses and knowledge are the basis for a natural source chain and correspond to our understanding of contemporary products.
Sustainability is self-evident for us!
Montage
Assembling is simple and easy to understand: There´s nothing to do, accept: Unpack the ladder-shelf, find the right position, lean it to the wall and use it.
Dimensions & Information
LOKKS has been designed for narrow rooms, like hallways and bathrooms, as well as for open spaces. As with all kommod products, the dimensions have been developed with a fine feel for visual appeal, function and purpose.
Dimensions
height: 130 cm | width: 40 cm | depth: 30 cm
rung spacing: 20 cm
Scope of delivery
LOKKS and product information
Shipping Carrier