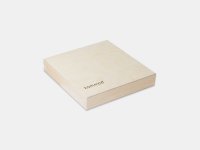 Make gift-giving easy – the kommod gift card in a elegant wooden box is just the perfect present! You don´t really know what your loved once are wishing for? With this you give them the chance to choose by theirselves and make their wishes come true. Doesn't matter if it`s a Birthday, Christmas, Mothersday or any other time – the kommod gift card is always a wonderful present.
manufacturing
We design, develop and manufacture in Southern Germany in the depths of the Bavarian Forest.
Regional raw materials, local businesses and knowledge are the basis for a natural source chain and correspond to our understanding of contemporary products.
Sustainability is self-evident for us!
Dimensions & Information
Dimensions
2,8 x 14,5 x 14,5 cm (H x W x D)
Shipping Carrier