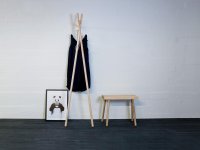 LENAH coat rack
made of Ash
LENAH is a lean-on cloakroom, made of Ash wood, which design-lovers enjoy. The warm tones of the natural wood or even the white lacquered wood grain of the ash lend this piece of furniture its appeal.
The purist design has been reduced down to the essential function of a hanging rail. The innovative combination of a metal sleeve and a magnet integrated into a wooden pole guarantees an optimum attachment to the wall. As LENAH can be quickly and easily disassembled, it is able to adapt to the increased levels of mobility in our lives.
LENAH can be placed in the hallway today, the bathroom tomorrow and in the bedroom the day after – for sure you will also find many other places for this piece of cloakroom furniture.
high quality
produced sustainably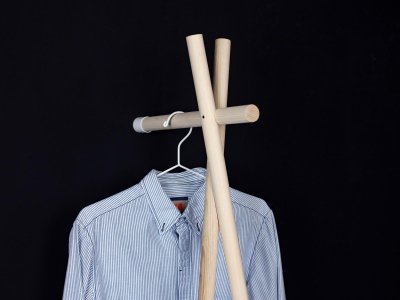 manufacturing
We design, develop and manufacture in Southern Germany in the depths of the Bavarian Forest.
Regional raw materials, local businesses and knowledge are the basis for a natural source chain and correspond to our understanding of contemporary products.
Sustainability is self-evident for us!
Montage
The lean-on wardrobe is delivered completely assembled. Unpack it, drill one hole at the right position, put the plug into the wall and fix the metal sleeve to the wall. Due to the strong magnet in the back of the wooden rod, you can fix the design wardrobe reliable into the sleeve.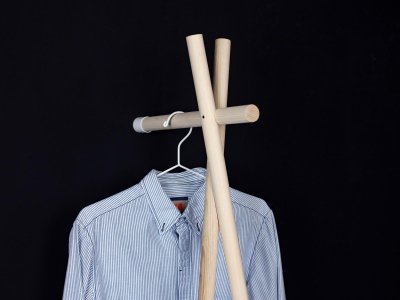 Dimensions & Information
LENAH has been designed for narrow rooms, like hallways and bathrooms, as well as for open spaces. As with all kommod products, the dimensions have been developed with a fine feel for visual appeal, function and purpose.
Dimensions
height: 178 cm | width: 43 cm | depth: 40 cm
distance to the wall: 45 cm
Material
natural ash, metal sleeve powder-coated (white)
Scope of delivery
LENAH coat rack, one metal sleeve and product information
Documents
Assembly instructions and product information can be downloaded here
Shipping Carrier