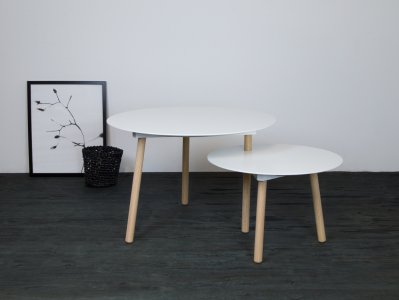 HOBSTAD table
390,00 €
incl. 19 % VAT
This item is ready to ship as soon as you have placed your order.
Shipping to United States – Change country
Shipping to United States on request
HOBSTAD is a table within a table. Two three-legged tables in differing sizes melt into a five-legged multi-functional side table
The HOBSTAD sidetable consists of white table tops combined with round legs made from simple ash. It demonstrates true talent when it comes to fulfilling a multitude of functional requirements and fitting into a variety of spaces. By removing the small table you can adjust the additional storage area as required.
Thus, depending on the angle of rotation and position, you can create a wide open space or a small enclosed area – with room for individual preferences in between. In terms of functional design, the HOBSTAD sidetable is a striking addition to any cosy living room, reading corner or lounge.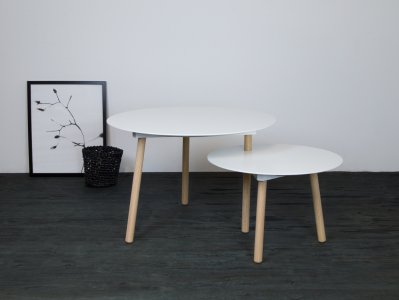 manufacturing
We design, develop and manufacture in Southern Germany in the depths of the Bavarian Forest.
Regional raw materials, local businesses and knowledge are the basis for a natural source chain and correspond to our understanding of contemporary products.
Sustainability is self-evident for us!
Montage
Very kommod: Unpack, position and start to twist & turn to your hearts' desire.
Dimensions & Information
As with all kommod products, the design proportions and dimensions have been developed with a fine feel for composition and function, in order to position HOBSTAD in a wide variety of positions and rooms.
Dimensions
height: 45 cm
small tabletop: Ø 68 cm
large tabletop: Ø 50 cm
width expanded: ca. 99 cm
Material
natural ash & lacqured (white)
Scope of delivery
HOBSTAD table and product information
Documents
Assembly instructions and product information can be downloaded here
Shipping Carrier